Main Content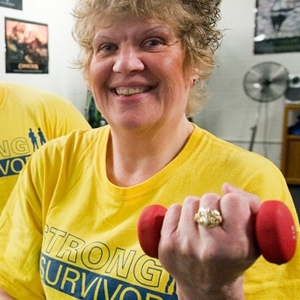 Successful Program Helps Cancer Survivors And Caregivers
---
The Strong Survivors Exercise and Nutrition Program for Cancer Survivors and Caregivers utilizes exercise as a therapeutic tool to help cancer survivors and caregivers get through the treatment and recovery process.  Exercise programs are individualized for each participant and are based on medical and fitness histories, initial fitness assessment results, and quality of life goals. All programs are created and administered by SIU student staff members who have completed the Strong Survivors Staff Training Class (KIN 402 syllabus). The free program is co-sponsored by the SIU Department of Kinesiology and the SIH Cancer Institute, and occurs primarily at John A. Logan College and the SIUC Cancer Rehabilitation Laboratory.
Hands on Assistance
All participants are assigned a staff member who creates and supervises an exercise program based on the individual's medical/fitness status and personal goals. No prior exercise experience is necessary and participants proceed at their own pace.
Grow Stronger
Our program is designed to improve survivor and caregiver physical fitness, but also improves emotional and psycho-social health. We work on strengthening the entire person.