Inspiration for the Program
Main Content
Originally posted on April 8, 2016
As told by Dr. Phil Anton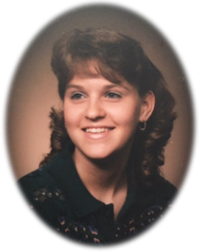 This is my cousin, Julie Honerkamp. She is the inspiration for the work that is completed through the Strong Survivors program. When we were adolescents, we were the best of friends, sharing many common interests including TV shows, movies, and, above all, music. She was spunky, funny, and had a big, compassionate heart…we just clicked. In 1984, when she was 13 and I was 14, she was diagnosed with an osteogenic sarcoma in her thigh bone. The doctors decided that the best course of action was to try to eliminate the cancer completely by amputating her leg. This procedure was completed and she learned to walk with a prosthetic limb. Not long after that, scans revealed that the cancer had metastasized to both of her lungs. The tumors were removed, and those surgeries were followed by chemotherapy. After a short cancer-free grace period where she tried to enjoy at least a semblance of a normal adolescence, the cancer returned in her lungs and then in her brain. Over the next couple years more tumors were found and she endured several more surgeries. Throughout her cancer experience she had 11 surgeries: amputation, 7 lung tumor removals, 2 brain surgeries, and a kidney removal.  Along with the surgeries, she battled through countless rounds of chemotherapy/radiation, along with blood tests, scans, etc., plus deleterious side effects like hair loss, fatigue, nausea, and numerous other discomforts.  
Each time a tumor was removed, there was hope that it would be the last time; however, that was not to be. Eventually a tumor was discovered in her brain in a position that was inoperable. Radiation treatment was administered in an attempt to shrink the tumor but it was not effective enough. She was soon hospitalized and the continuation and accumulation of treatment effects had ravaged her immune system to the point where she began to experience septic shock. At that point, her blood pressure began to drop and the doctors pumped fluids into her to try to raise it. The fluids coming in created a catch-22 situation where she began to drown from the inside in the excess fluids, primarily filling her lungs and impeding natural respiration. After a few days, she slipped into a coma. My mother, Charlotte, was in Chicago at the time, offering assistance to my Aunt Judy and Uncle Rich (she did this frequently during Julie's cancer battle) and on April 8, 1990 she called me from the hospital to let me know that the end was near. It was a call I knew was coming, but that didn't make it any easier when it came. At the time, I was at school during my sophomore year at Alma College and a buddy from my hometown of Hastings (Scott Schoessel - also attending Alma) drove me the 1.5 hours to get home, where I picked up my dad's (Michael) car. The drive to downtown Chicago was roughly 3.5 hours, but the route took me around the southern edge of Lake Michigan on I-94, which was being pounded heavily by a freak lake-effect April snowstorm. Seven hours later, I arrived at the hospital, parked, and sprinted inside to try to find my cousin's room in the intensive care ward. When I burst in the room, my mom was standing in the doorway and calmly, reassuringly told me: "She's still here." Aunt Judy, Uncle Rich and my cousin John (Julie's brother) were in the room and we hugged as I made my way over to the bed to say a final goodbye. Within an hour or so, her heart rate began to drop precipitously and I watched as she took her last breaths.  
Seeing my best friend take her final breaths was an experience that marked me very deeply. Seeing her fiercely and courageously battle cancer for nearly 6 years also left an indelible impression on my psyche. She was the bravest person I have ever known.  
Even after her cancer diagnosis, we still managed to find ways to have fun together and we got to do some pretty cool stuff, like going back stage at a U2 concert, and seeing The Who, The Rolling Stones, and Pink Floyd. That said, the moments that I miss the most with her are the talks that the two of shared in person, but also via letters and phone calls. Sometimes we would chat about everyday stuff that we both liked, but many times we spoke of life, death, and everything in between. This shared experience created a situation where we were both forced to grow up pretty fast. I will never forget the conversation we had not long after her 2nd brain tumor diagnosis, when she told me that if it was her time to go, she was ready to die.  She wasn't ready to give up, but she saw the big picture of the battle she had fought and the realities that continued recurrences were likely to dictate. This was clearly very heavy stuff for a couple of friends in their late teens.
Her fight, struggle, and courage made me want to dedicate myself to living a life that would allow me to do things that she never got the chance to do and help folks facing the same battle that she faced. Over the years, I participated in Relay For Life, Race For the Cure, and other cancer-related events and made donations when I could to various causes, but it never really felt like I was doing enough. It wasn't until I sat down with Dr. Carolyn Dennehy at the University of Northern Colorado in 1999 when I was trying to decide what to do for a doctoral dissertation topic, and she told me about the University of Northern Colorado Cancer Rehabilitation Institute (UNCCRI). She explained that they used exercise as a therapeutic tool to help cancer survivors get through their treatment and recovery period.  Light bulbs popped on, the planets aligned, and I thought in that moment: That's it! I was trained at UNCCRI and took that training to the Department of Kinesiology at SIU Carbondale in 2004, collaborating with Southern Illinois Healthcare and John A. Logan College to start Strong Survivors in 2005. 
There's not a day that goes by that I don't see my cousin in the work that goes on with Strong Survivors. Her epitaph says "Your faith, love, and courage continue to inspire." That is certainly the case for the presence of her soul and spirit as the basis of this program.
How it got started